Christian Andersen
Program Manager
Christian is an engineering whiz with a background in physics and additive manufacturing. As program manager, he oversees daily operations related to personnel, budget, and project development. He also leads applied research efforts in additive manufacturing and mentors kamaʻāina students.
Beginning in 2008, Christian managed the logistics for a trio of analog site tests on Hawaiʻi Island for NASA and CSA (Canadian Space Agency) payloads. Among these was CheMin, an instrument designed to study the chemical composition of rocks that is now operating aboard NASA's Curiosity rover on Mars.
Christian earned a B.S. in physics from San Jose State University and a M.S. in Engineering from U.C. Davis. His career began with research in inertial confinement fusion at Lawrence Livermore National Laboratory, Ecole Polytechnique and Rutherford Appleton Laboratories. In recent years, he has served as an assistant professor for the Department of Physics and Astronomy at the University of Hawaiʻi at Hilo.
Chris Yoakum
Public Information & Outreach Officer
Chris is a strategic communications specialist with an interest in sustainable technology and design. As PIO, he writes public releases, creates digital content, and manages social media, marketing campaigns, and design projects. Chris' devotion to writing earned him a UH Hilo faculty recommendation to work with PISCES as a communications assistant in 2014. In 2016, he took over the communications role and began writing grants to secure funding for internship and outreach programs. He also leads the planning and coordination for the annual STARS program camp and WiSE Talks series. 
Born and raised in Hawaiʻi, Chris earned a B.A. in communications and minor in history from the University of Hawaiʻi at Hilo. In 2018, he was nominated for the Research Corporation of the University of Hawaiʻi (RCUH) "Employee of the Year" award.
Henk Rogers
Entrepreneur, Founder of Blue Planet Foundation
Senate Nominee
Term: 2014 – 2022
Luke Flynn
Director of Hawaiʻi Space Flight Lab & Hawaiʻi Space Grant Consortium
Governor Nominee
Term: 2016 – 2023
Kim Binsted
Professor of Computer Science at University of Hawaiʻi at Mānoa
Senate Nominee
Term: 2016 – 2024
Bonnie Irwin
Chancellor of the University of Hawaiʻi at Hilo
Ex-Officio
Designated Alternate
TBD
Mike McCartney
Director of DBEDT
Ex-Officio
Term: 2015 – 2022
Designated Alternate
Chung Chang
Deputy Director of DBEDT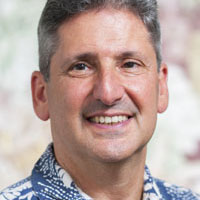 David Lassner
President of the University of Hawaiʻi
Ex-Officio
Term: 2013 – 2022
Designated Alternate
Brennon Morioka
Dean of UH Mānoa College of Engineering
Rachel Solemsaas
Chancellor of Hawaiʻi Community College
House Nominee
Term: 2018 – 2022
Dennis Gibson
Senior VP of Booz Allen Hamilton
House Nominee
Term: 2018 – 2022