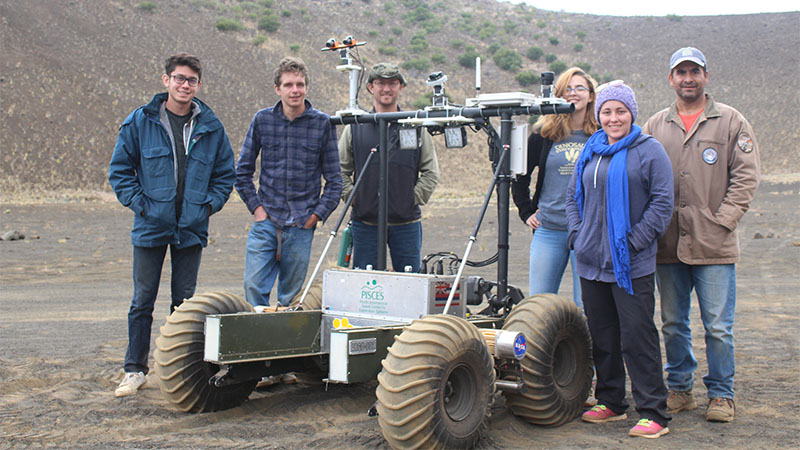 Since 2013, we have employed more than 50 Hawaiʻi-based undergraduate students in aerospace projects related to materials science, planetary geology, robotics and computer science. Many of our interns have gone on to secure competitive internships and grant fellowships, as well as employment opportunities at companies like Google, Taos and NASA. Meet some of our outstanding intern alumni who have made a difference at PISCES and continue to reach for the stars.
Krystal Schlecter
Krystal Schlechter interned with us in 2013 through the Akamai Workforce Initiative's summer internship program. With a background in Lunar Impact Monitoring, she collected data for NASA's LADEE (Lunar and Atmospheric Dust Environment Explorer) mission along with former PISCES Logistics/EPO Manager, John Hamilton. Together, they measured meteor strikes on the far side of the Moon using two telescopes equipped with high-speed video cameras. Completing her internship with a bang, Schlechter and her mentor flew to Virginia to witness the launch of the LADEE spacecraft into space. LADEE was a $263 million project designed to unlock the mysteries of the Moon's fragile atmosphere. Schlechter's work assisted in the larger effort of figuring out how humans can live on the Moon for sustained periods of time.
Melissa Adams
Melissa Adams worked with us during 2013 and 2014, characterizing planetary analog test sites and researching Hawaiʻi's volcanic basalt by comparing it with Martian rocks in conjunction with NASA. In the summer of 2014, she was selected for NASA's prestigious Sally Ride internship program at Johnson Space Center. Adams graduated from UH Hilo in December 2014 and was offered contract work at NASA JSC with Jacob's Technology.
Christina Cauley
In 2014, Christina Cauley was tasked with conducting geological surveys of Hawaiʻi Island to seek out new analog test sites—sites used to evaluate planetary surface systems and robotics. She graduated from UH Hilo with dual degrees in geology and anthropology. During the summer of 2015, Christina was selected for NASA's OSSI internship grant and worked with the Good Earth Project, an international humanitarian effort tasked with collecting and applying satellite data from the International Space Station. She credits her summer internship experience at PISCES with building her confidence and exposing her to space research.
Kyla Edison
Kyla Edison interned with us for three consecutive years and was later offered a staff position as a geology and materials science technician. She is a UH Hilo graduate and Hawaiʻi Space Grant winner who is passionate about geology. Kyla's experience conducting field surveys, planetary geology analysis and basalt sintering research have made her an ideal mentor for other students. In 2016, she supported NASA's BASALT Mars research project, assisting a simulated Mars astronaut mission by an international team of scientists at Mauna Ulu. After advancing basalt research at PISCES for several years, Kyla moved to Colorado to pursue a PhD at the Colorado School of Mines. 
Aaron Roth
Aaron Roth is a Waiākea High School graduate who interned with us from 2016 – 2017, developing a stereoscopic imaging system for the Helelani rover. He studied computer science at Arizona State University and graduated in 2019. After interning with PISCES, Aaron was offered an internship at Jim Bell's imaging lab at ASU, and went on to intern at NASA's Jet Propulsion Laboratory in Pasadena, California. In his senior year at ASU, he was offered a job at JPL working on imaging systems for NASA's Mars rovers.
Lily Leyva
Lily Leyva is a Keaʻau High School graduate who attended the PISCES Women's STARS Program in 2016 and was inspired to pursue a career in aerospace engineering. She interned with us in 2017 doing materials science research and created a new planetary building block design that uses sintered basalt. Lily also programmed our Heʻe Nui UAV as part of a project with Hawaiʻi Ant Lab and the County of Hawaiʻi Dept. of Research and Development. Lily is studying Aerospace Engineering at University of Colorado Boulder.